About Berlin
Berlin, the capital of Germany is dynamic, cosmopolitan and creative, allowing for every kind of lifestyle. East meets West in the metropolis at the heart of a changing Europe. Germany's largest city is a city of opportunities just waiting to be seized in all areas, like entertainment, recreation, economy, science and academic life.
About the Humboldt-Universität zu Berlin
The university was founded in Berlin in 1810, and the foundation concept of Wilhelm von Humboldt gave it the title "Mother of all modern universities".
This concept envisaged a "Universitas litterarum" which would achieve a unity of teaching and research and provide students with an all-round humanist education. This concept spread throughout the world and gave rise to the foundation of many universities of the same type over the next century and a half.
From the outset, the university in Berlin had the four classical faculties of Law, Medicine, Philoso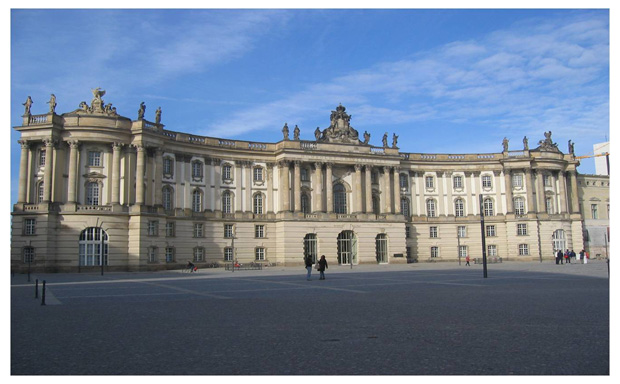 phy and Theology. Its first academic term began with 256 students and 52 teaching staff. Professors such as Georg Friedrich Wilhelm Hegel (Philosophy), Karl Friedrich von Savigny (Law), August Boeckh (Classical Philology), Christoph Wilhelm Hufeland (Medicine) and Albrecht Daniel Thaer (Agriculture) shaped the profile of the individual faculties in accordance with Humboldt's concept.
A total of 29 Nobel Prize winners did some of their scienti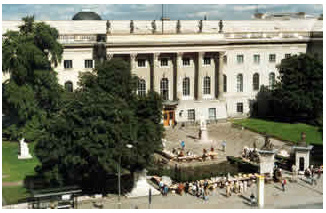 fic work at the university in Berlin, including Albert Einstein, Emil Fischer, Max Planck and Fritz Haber. And many famous people such as Heinrich Heine, Adelbert von Chamisso, Ludwig Feuerbach, Otto von Bismarck, Karl Liebknecht, Franz Mehring, Alice Salomon, Karl Marx and Kurt Tucholsky were also enrolled at the "Alma mater" of Berlin.

Accomodation in Berlin
Berlin is an exciting and fairly reasonable priced city to stay. Following you find a choice of hostels and hotels in Berlin where we can recommend you to stay and where we could secure special deals for Summer School participants.
All bookings should be made directly with the hostel or hotel of your choice.
When making your reservations please keep in mind that the program starts with a sightseeing tour of Berlin, followed by the official welcome party on SUNDAY July 29 - a good opportunity to get to know the other participants and staff of the program.
Please follow this link to download the information for accomodation:
If you are looking for someone to share an apartment with, you can become a member of the facebook-group "20th-berlin-summerschool-2018", which will be established in March 2018. There you can exchange messages and find someone who would like to book an apartment with you. In order to join the group, please emaiil karl-michael.schmidt@rz.hu-berlin.de
Finding your way through Berlin
For help to find your way around in Berlin, we recommend you have a look at:
where you can download maps of the public transportation system and where you find specific details on how to get from one place to another by using the journey planner.
How to get to the Humboldt University from ...
Schoenefeld Airport (SXF)
The most convenient way of getting to the Guesthouse and the University is by using the Airport Express (Timetable) which runs app. every 10 minutes. The journey takes about 25 minutes to the S-Bahn station Friedrichstraße. From there its only a 10 minute walk to the University.
Tegel Airport (TXL)
Catch Bus TXL (direction: Alexanderplatz), step out at the Stop: Unter den Linden / Friedrichstraße.
From there its only a 5 minute walk to the University.